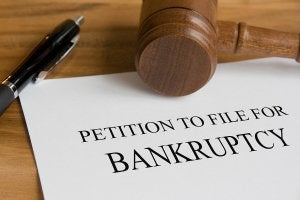 Petitioning for bankruptcy may be a long process, but with the help of a business lawyer in Wichita , it doesn't have to be complicated. Filing for bankruptcy mostly involves filling out the paperwork correctly and approaching each proceeding in the correct order. Once you attempt to declare bankruptcy, a government employee called a trustee will examine your case.
Assemble financial information
Before you file a bankruptcy petition, you need to assemble your financial information for your business lawyer. If you are married, you need to include your spouse's financial information, even if he or she is not filing with you. To begin, you need to collect all debt information, including your creditor, current balance, interest rate, and your monthly payment. You should include all debt you currently owe, even if your payments are current. You should also provide your business attorney information on any income you have received in the past six months as well as any income you expect to receive in the future.
Attend credit counseling
At most, you must attend credit counseling from an approved agency six months before you file your petition. This usually only takes an hour or two, and can often be conducted over the phone or Internet. The court will not accept your bankruptcy petition if you forgo the counseling requirement. In addition to your business attorney, your credit counseling agency can help you determine which bankruptcy chapter is most appropriate for your financial situation. If you choose to file Chapter 13, the credit agency can also help you develop a payment plan.
Filing your petition
Once you file your bankruptcy petition, an automatic stay goes into effect. This prohibits your creditors from making further attempts to collect your debt. This means you creditors can no longer begin legal proceedings to collect your debt, enter liens against your property, or try by any other means to collect your money or property. However, the automatic stay won't stop the automatic payments taken from your paycheck to cover your 401K loan.