Agricultural Lawyer in Wichita
We've Forgotten More About Agricultural Law than Most Lawyers Will Ever Know
The agribusiness lawyers at HARTENSTEIN POOR LLC have forgotten more about agricultural law than most lawyers will ever know. They have a firm grasp on the corporate, contractual, transactional, tax, regulatory and environmental issues facing agricultural producers, agricultural service providers, cooperatives and value-added enterprises.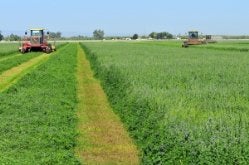 Some Examples of Recent Agribusiness Matters Handled by the Attorneys:
Represented Minority Interests in Biofuel Plant Acquisition
Served as Due Diligence Advisor in Acquisition of Grain Elevators & Feed Mills
Handled CAFO Site Selection & Permitting
Counsel in USDA FSA National Appeals
Prepared Farm Estate and Succesion Plan for Multi-State Operator
Represented Livestock Producer in Animal Welfare Criminal Prosecution
Rural Roots
Although our firm is located in downtown Wichita, our personnel have rural roots and agricultural backgrounds. Attorney Eric Hartenstein grew up with a Flint Hills ranch. Attorney Scott B. Poor grew up in rural Southwest Kansas. As a result, HARTENSTEIN POOR LLC understands agribusiness. Attorney Scott B. Poor speaks nationally on legal issues and topics related to agribusiness.
Serving Agricultural Producers and Value-Added Industries
HARTENSTEIN POOR LLC represents landowners, farmers and ranchers. We provide a full range of legal services for livestock, grain and produce companies.
Services for Agricultural Producers:
Real Estate Transations & Agricultural Leases
Business Structure & Entity Formation
Farm Estate & Succession Planning
USDA Programs
Groundwater & Irrigation Issues
Farm Labor Issues
Ag Loans & Workouts
Chapter 12 Bankruptcies
HARTENSTEIN POOR LLC handles value-added projects such as feedlots, CAFOs, meat processing plants, feed and grain mills, cotton gins, bio-refineries and food and beverage production facilities.
Services for Value-Added Industries:
Feasibility & Strategic Planning
CAFO Project Finance & Development
Biofuel Project Finance & Development
Land Use & Environmental Permitting
Utility & Railroad Agreements
Tax Credits & Incentives
Regulatory Compliance & Government Affairs
HARTENSTEIN POOR LLC attorneys are experienced litigators with more than a dozen published decisions. As former senior government officials, our personnel have previously served as litigation counsel to the Kansas Department of Agriculture, Kansas Department of Health and Environment, and Kansas Department of Wildlife and Parks. Additionally, our personnel have previously represented the State of Kansas as EPA Region VII liaison.