Business Lawyer in Wichita
From the Business World, For the Business World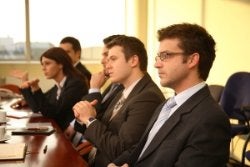 HARTENSTEIN POOR LLC serves as attorney and advisor to entrepreneurs and businesses in the Wichita metro and the surrounding rural areas. Firm personnel are former corporate executives who understand the business world. Attorney Scott B. Poor is former Corporate Counsel to Green Plains Renewable Energy, Inc., the nation's largest publicly traded ethanol company. He has worked extensively in the affordable housing and real estate development sectors. Attorney Eric Hartenstein is former President of Aerospace Products, Inc. a Wichita-based aircraft parts manufacturer. He also teaches in MBA program at Friends University.
Services for Entrepreneurs and Businesses:
Business Structure, Incorporation and Governance
Mergers and Acquisitions
Employment
Risk Management
Contracts, Leases and Loan Agreements
Workouts, Refinance and Bankruptcy
Distressed Assets
Secured Transactions
Business and Professional Licensure
HARTENSTEIN POOR LLC serves as corporate counsel for mid-sized enterprises that need access to a knowledgeable lawyer, but cannot employ a full-time in-house counsel. In recent years, our attorneys have served as counsel to numerous retail, restaurant and hotel franchisees. Both attorneys Scott B. Poor and Eric Hartenstein have direct experience in the manufacturing sector. The firm currently does a great deal of work for construction companies, contractors as well as real estate and financial service providers.
Dedicated to Entrepreneurship
Over the years, our attorneys have had the honor and privilege of working with some of the region's most successful entrepreneurs. Attorney Scott B. Poor is a veteran of four renewable energy startups. HARTENSTEIN POOR LLC is dedicated to serving the needs of entrepreneurs and startups, combining specialized legal training with first-hand, real-world experience.
Understanding the Needs of Family Businesses and Business Families
HARTENSTEIN POOR LLC primarily works for closely-held and family-owned businesses. Such enterprises have unique needs, and require qualified counsel with experience in resolving family disputes and handling family dynamics. The firm provide legal services for the day-to-day operational needs, but also manages delicate business succession, estate and tax planning issues.
Services for Closely-Held and Family-Owned Businesses:
Family Office Structure & Governance
Sucession Planning
Financial Planning
Loan Agreements & Credit Facilities
Joint Ventures, Strategic Relationships
Valuations, Buyouts & Exit Strategies
HARTENSTEIN POOR LLC provides family businesses with practical advice and pragmatic solutions. We enjoy long-term relationships with our family business clients, who see value in our complimentary family, business and defense legal services.